Every now and then you come across a recipe and you say to yourself that you have to try it. Atomic buffalo turds fit the bill. I wish I could meet some of the people who come up with these recipes. I would like to give them some credit, but also ask them what the heck were they thinking. How do you come up with a recipe that calls for taking a Jalapeno, stuff it with a special blended cheese mixture, top with a cocktail weenie, wrap it in bacon and some rub, then smoke it on a grill? I was all over it, this is my story and I am sticking to it. During my lunch break I walked down to the local farmers market and scored a bunch of Jalapenos for peanuts. I paid $2.75 for the peppers you see in this picture. I am not sure if I paid too much for these, but it seemed pretty cheap to me for 22 peppers.
After taking the jalapenos home, I gave them a good bath. I threw on some disposable latex gloves and started the work of cutting them in half, removing the seeds and the membranes. I read somewhere to use a teaspoon to scrape the seeds and the membranes out. I tried it and it worked awesome. Be careful with this step because there is good chance of getting some jalapeno juice shot up in your eye. Below is the end result.
Next came the cheese mixture for the stuffing. I used one package of budget brand, room temperature cream cheese, and one package of Mexican blend shredded cheese, the 12 ounce size. I also added some salt and pepper, and a little cayenne powder. These measurements I winged, if I had to guess I would say one teaspoon of each. My little princess helped her old man out with this mixture. Good job with the mixing Marianna!
Here is a great tip I learned. After the cheese mixture is mixed and ready to go, throw it in a Zip Lock bag, cut the corner of the bag and squeeze the mixture out as needed, sort of like frosting a cake. The final step is to wrap them in Bacon and add some rub. I found that a half a piece of bacon is perfect to wrap one turd. Wrap it semi tight and then "pin" it with a toothpick. The final step is to add a little of your favorite rub all over them. For this round I used my own secret rub recipe. The end result is pictured below.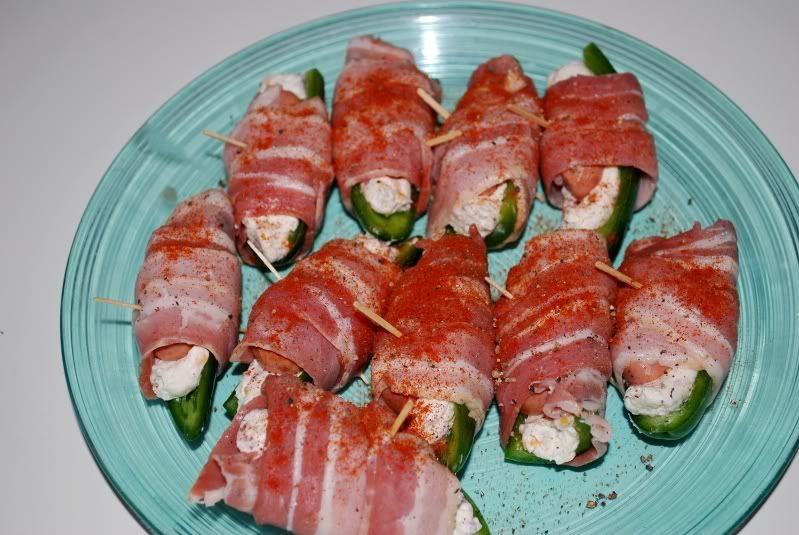 Atomic Buffalo turds front and center!
On to the smoker the turds went. My smoker fluctuated between 225-250 degrees. I was OK with that. After 2 hours this was the end result.
Some people like the bacon really crispy, I think this was cooked enough. My guests agreed because the Atomic buffalo turds were gone in 5 minutes. I have made them a few times now, and I have changed a couple of things. I no longer use the cocktail weenies. I do not think it needs them and it sort of cheapens them out in my opinion. I also lay down a very thin layer of BBQ sauce on the pepper before I add the cheese mixture. This gives it as little sweetness to go along with the heat. If you remove all the seeds and all the membranes they will not be Atomic at all. I personally leave a little membrane on just to give it that nice, well rounded heat. Below is a closeup of the done Turds. Let me know what you think, and If you have any other ideas, thoughts or tips, please let me know. If you have any questions, please feel free to ask.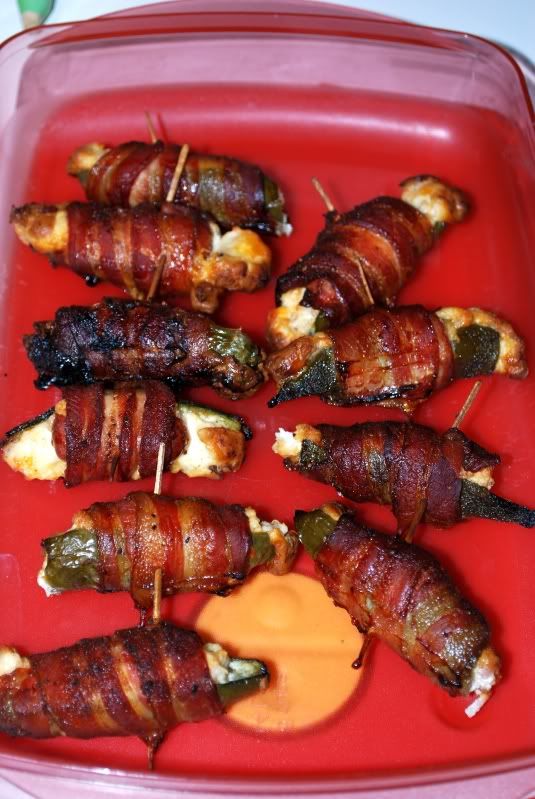 Happy smoking,
Jim