Oh my goodness, oh my goodness! That is exactly what went through my mind the first time I tried bacon wrapped chicken wings. My buddy Mark told me about a chicken wing contest his wife entered with this wing and she came in second place. I decided to try it and they came out awesome. They were all gone in minutes. I picked up a big package of chicken wings and a package of Bacon. I washed all the wings under cold water and I removed the wing tips with a pair of Kitchen scissors. I then straightened out the wing a little. To do that you need to snip a little bit of the flapper wing between the drumette and the wingette. the wings do not have to be totally straight, just straighter than normal so you can wrap the bacon around the wing. For the next step I took a whole piece of bacon and wrapped it as best I could around the wing. I recommend wrapping as tight as you can without ripping the bacon. Try to get as much of the wing as you can. They should look something like this.......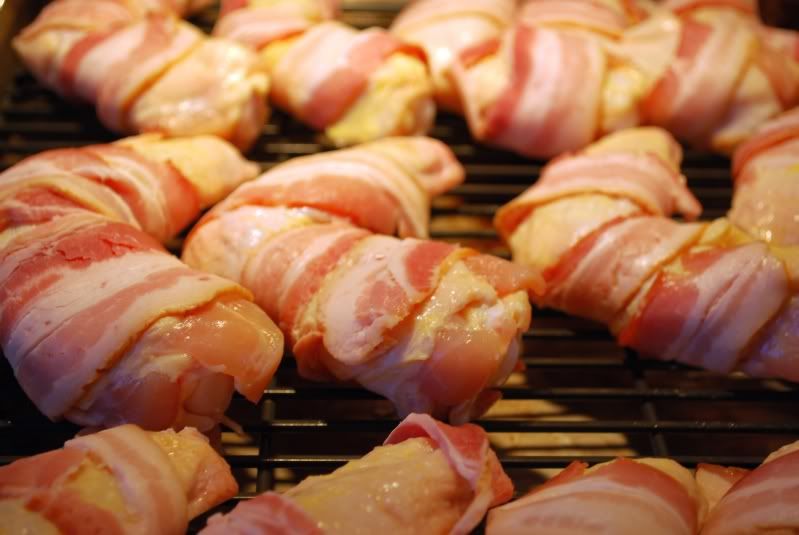 I have a confession to make. Even though this site is supposed to be about grilling and smoking, sometimes you just need to use an oven. This was my first time making these, so I wanted to follow Marks wifes recipe exactly. Next time I will grill or smoke them for sure. Mark suggested that I cook the wings on a cookie pan on wire racks. This would allow the bacon grease to fall away from the wing and still allow the wing to cook under the wire. I pre-heated the oven to 325. When the oven reached temp, I threw the wings in for 30 minutes. At the 30 minute mark I raised the temp to 350,took the wings out, lathered them with BBQ sauce and threw them back in for another 30 minutes. The end result is what you see here.......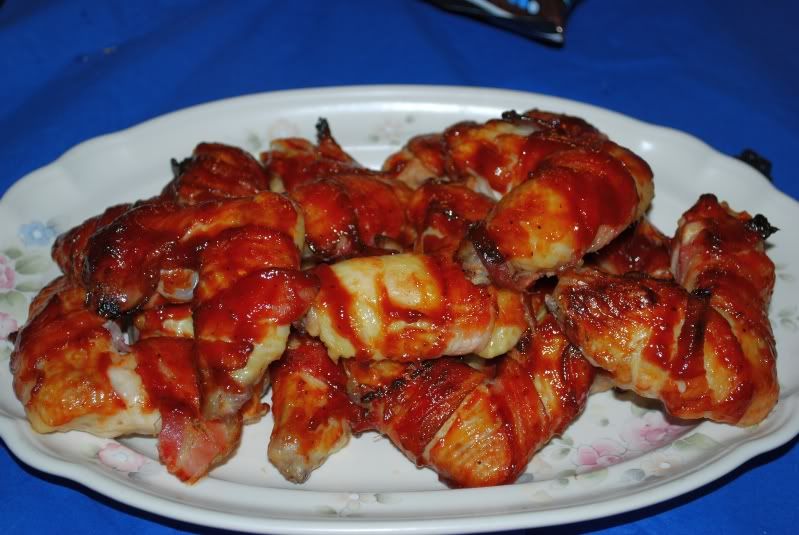 As I said before I only had two wings because the were all gone in minutes. They were a hit! A huge hit!
I am going to change it up for next time. I will do an initial cook for 30 minutes at 325, raise the temp to 350 for another 20 minutes, fire up the broiler for 5-10 minutes to get the bacon crispy, and then lather some BBQ sauce and back into the oven for a bake at 350 for 10 minutes. When I told everyone I was making bacon wrapped chicken wings they looked at me like I had two heads. After they tried them, they were hooked. Give this simple recipe a try, I can guarantee it will be hit. Let me know how it goes.
Jim